Mobile Filtration For Residential and Commercial Applications
In the commercial industry, proper pool maintenance requires a drain and refill approximately every 6-12 months, depending on usage and/or TDS (total dissolved solids) levels higher than 2,000 parts per million. This practice produces wasted water as well as wasted chemicals. Commercial properties will benefit from our trailer-mounted, mobile filtration unit, or larger properties may opt to have you install full-time inline units, allowing them to never drain their pools again, except for re-plastering! Either way, large amounts of water will be conserved.
Residential pool water needs to be removed and replaced every 2 years, depending on starting TDS and Calcium Hardness levels. In less than a day, the mobile filtration unit will not only remove the hard water minerals from the pool, allowing your customers to use fewer chemicals but will also retain nearly 85% of the existing water. Your customers will be left with a swimming pool that is as clean as bottled drinking water!
Some of the benefits of using the Puripool Process include:
Water Conservation – Saving a precious, and limited, resource
Less Chemical Demand and greater equipment reliability
(less hard water build-up)
No Down Time – Pool can remain open during treatment
Plaster is not exposed or compromised
Soft-water swimming experience
Our Puripool Process lowers or removes:
Calcium Hardness
Cyanuric Acid (CYA)
Total Dissolved Solids (TDS)
Borates
Salt
Iron
Copper
Magnesium
Algaecides
Sequestering Agents
Phosphates
Bacteria and Viruses
PWI is proud to offer our PP-40K, Mobile Swimming Pool Filtration Puripool System:
RO System
P-TP-Series/40K Series
ABS control panel, NEMA 4X electrical enclosure.
Microprocessor control from feed tank low, pre-treat, low feed press, product tank full.
Brine, recirculation and product flows and product TDS monitored through the microprocessor and high TDS.
Sampling valves for each vessel.
Two gauges for vessel array in-out and two filter in-out are stainless steel case, internals and glycerin filled, all mounted on the front panel.
Pre-filter is stainless steel housing with 2″ FNPT ports for one each number 2 filter bag, 10 micron.
Brine and re-circulation valves are 316 stainless steel, globe type mounted in the last vessel brine line.
Plumbing: Schedule. 80 PVC. Fitting types and hose best suited for purpose.
Main pump wetted parts are all 316 stainless steel.
Skid frame is stainless steel with accommodation for multimedia filter, boost and injection pumps.
Boost pump is StaRite 2.5 HP.
Injection systems are 0-6 GPD pumps mounted on a 30 gallon tank for anti-scalant and sodium meta-bisulfite.
UV is 40 GPM stainless steel unit with amp monitor. (STANDARD FEATURE)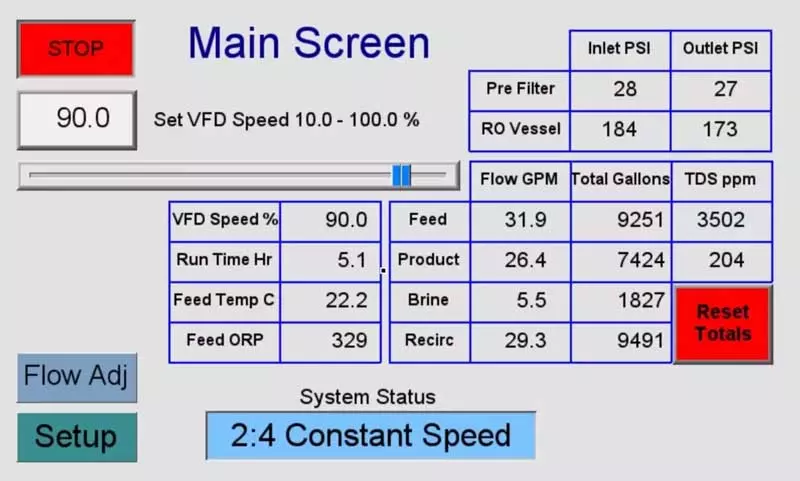 Remote Texting
Connects to your cell phone, tablet or iPad to see the control panel on the RO system working in real time
Ability to increase pressures, change settings or shut down system even when you're not onsite
Wired to text your cell phone when job is complete
Trailer
102" X 16', 12K, 6,000 lbs. Tandem Axle with Trailer Brakes
Color Choice (White, Black, Gray or Silver)
36" Lockable Side Access RV Door
Lockable Bulkhead Hose Distribution Center
White Vinyl Interior
Barn Door Style Rear Access With Key Lock
Louvered Side Ventilation for Generator Airflow
110 Volt AC Power Transformer and Convenience Package
Generator
PE-20 Kv Turbo Diesel Generator, 480V, 3 Phase
Included Extras
110 volt interior convenience outlet
Rhino lined floor
200′ of suction hose
300′ of return hose
Two each of 50′ garden hoses: brine and makeup
Prime pump to prime system
VGBA approved suction and return fittings
1 bag (50lbs) sodium meta-bisulfite to neutralize chlorine
1 (5 gallon) container of anti-scalant
Exterior side fill fuel door located on driver's side

Power tongue jack with 12V battery

60 gallon fuel cell
Learn More About The Guide To Purchasing Our Trailers