Inline Reverse Osmosis Filtration System for Pools
 Pure Water Industries has taken the technology from its mobile filtration trailers and replicated it in an inline system. Our inline reverse osmosis filtration system is plumbed directly to swimming pools, keeping the water safe and sanitary at all times.
Standard Inline RO System
Our standard inline ROI system includes the following components:
ABS control panel, NEMA 4X electrical enclosure.
Microprocessor control from feed tank low, pre-treat, low feed press, product tank full.
Brine, recirculation and product flows and product TDS monitored through the microprocessor and high TDS.
Sampling valves for each vessel.
Two gauges for vessel array in-out and two filter in-out are stainless steel case, internals and glycerin filled, all mounted on the front panel.
Pre-filter is stainless steel housing with 2″ FNPT ports for one each number 2 filter bag, 10 micron.
Brine and re-circulation valves are 316 stainless steel, globe type mounted in the last vessel brine line.
Plumbing: Schedule. 80 PVC. Fitting types and hose best suited for the purpose.
The main pump wetted parts are all 316 stainless steel.
Skid frame is stainless steel with accommodation for the multimedia filter, boost and injection pumps.
Boost pump is StaRite 2.5 HP.
Injection systems are 0-6 GPD pumps mounted on a 30-gallon tank for anti-scalant and sodium metabisulfite.
UV is a 40 GPM stainless steel unit with lamp monitor. (STANDARD FEATURE)
Automation Package, remote access, startup and shutdown
Commercial Inline RO System
Our Reverse Osmosis swimming pool filters can be customized according to your needs. The pools in resorts, hotels, water parks, and residential complexes have varying requirements when it comes to drainage frequency. We'll calibrate the RO system depending on the capacity and size of the commercial pool.
The following are other industries that Pure Water Industries works with:
Aerospace Engineering
Breweries
Medical Marijuana
Cannabis
The following are sizes that are available:
20,000 GPD
30,000 GPD
40,000 GPD
50,000 GPD
100,000 GPD
Residential Inline RO System  (Vertical)
Pure Water Industries also offers Reverse Osmosis water filtration systems for residential clients. A whole-house RO system guarantees pure and safe water for your family, from your drinking water to your swimming pool.
The following are sizes that are available:
2000 GPD
4000 GPD
6000 GPD
8000 GPD
10,000 GPD
12,000 GPD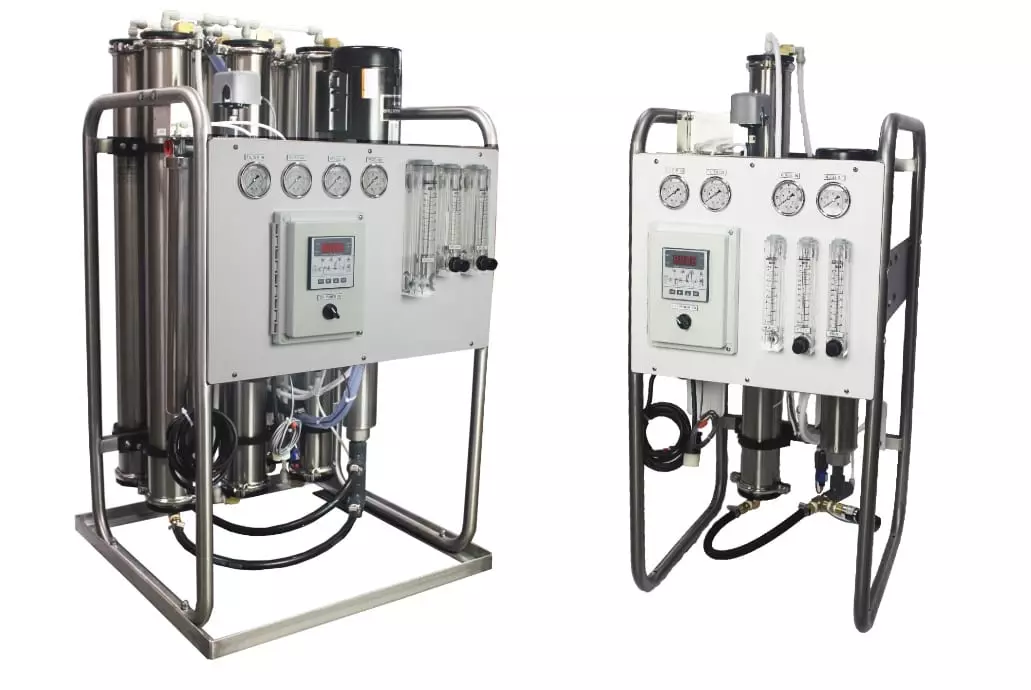 CLICK HERE TO DOWNLOAD THE VERTICAL RO SYSTEM SPEC SHEET
Fill Line Residential RO System
Our fill line Reverse Osmosis filtration system comes in a compact, shelf-mount design, making it easier to install. You can use it to auto-fill your swimming pool, so you can treat the water before it enters the pool.
The fill line RO system is also ideal for light commercial use. It provides reliable water filtration for smaller quantities, such as spot-free rinses in car washes or lab humidification. 
Standard Systems:
The frame is stainless steel
Membranes are thin-film composite
The pump is a positive displacement rotary vane pump
Vessels/Filter Housings  are stainless steel
Electrical is 110/220V 60Hz 1-phase
Valves are feed inlet solenoid valve
Switches are low-feed pressure cutout switch
Control systems are SS needle valve pressure control
Options and Accessories:
Product storage tanks
Atmospheric tank level controls
Re-pressurization system
UV treatment
Pre/post filters and treatment
Heavy-duty SS wall mounting brackets
Stainless steel pumps
Blend valve: Adds filtered water to permeate
Operating Parameters:
Nominal/Max Operating Pressure 150/200 psi
Feed pH 2-11
Feed Chlorination Dechlorination required. if<0.1 ppm
Max Feed Temp 113F/45C
Max Feed TDS 2500 ppm
CLICK HERE TO DOWNLOAD THE FILL LINE RO SYSTEM SPEC SHEET
Nano Membrane RO Systems
The nanofiltration line is a simple water purifier intended to remove hardness and other contaminants using the pressure from a typical tap or well water line. Using nanomembranes, this system produces soft water while leaving low levels of minerals important to many food and processing applications. The inclusion of an optional dolly-mount makes these systems highly portable.
Models
The nanosystems are available in the mid-range model sizes of 1500 and 3000 gallons per day (GPD) product water output.
Standard Features
Frame – welded tubular stainless steel
Membranes – 4040 thin-film nano
Vessels/Filter Housings – 4040 stainless steel/reinforced PP
Filters – 2.5" x 20" spun poly 10-micron sediment and carbon block, 1/2" fpt port housing • Water Quality Monitor – Digital feed water & product water TDS.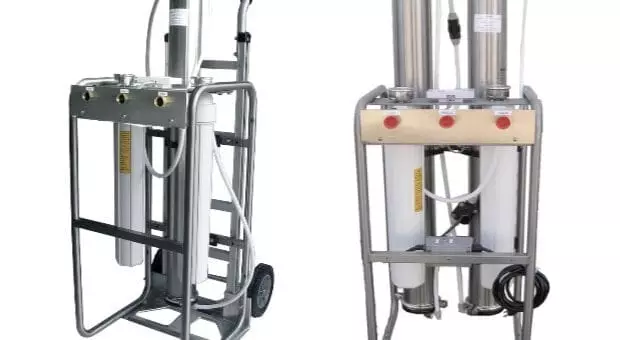 CLICK HERE TO DOWNLOAD THE NANO RO SYSTEM SPEC SHEET
THE BENEFITS OF A RESIDENTIAL INLINE RO
With an inline RO system plumbed directly to the swimming pool return system, you can always control the minimum and maximum TDS (Total Dissolved Solids) in the swimming pool. The benefit of this is that your swimmers will always have a defined water quality that they can count on. Plus, the RO filtration system allows you to continually keep the pool water within the parameters specified by plaster companies and equipment manufacturers in regard to warranties.
The ability to control the water quality will prolong the life of plaster. A new interior finish is a very expensive and time-consuming process (a re-plaster can shut a pool down for weeks and having a pool down for that period of time unnecessarily is something few desire). Installing a Reverse Osmosis filtration system greatly reduces the need to refinish your pool plaster, avoiding temporary closures.
Negate the need for a drain and refill to address water quality. While the accepted process for dealing with hard water or unbalanced water in the past has been a drain and refill (or partial drain and refill), this is not only wasteful but time-consuming.  In addition, this process does not always address every issue (hard water, for example) and can also lend itself to a closed pool if the process is disrupted for any reason.  A drain and refill will only provide water that is of the quality of the supply source and you are left to deal with that "quality"; RO systems allow you to control the water quality.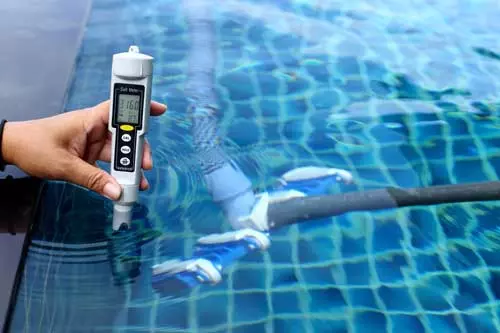 Chemical levels can be much lower and still provide a safe and sanitary pool. When the water chemistry is properly balanced, the chemical levels can be maintained at much lower levels, yet still meet Health Department spec. The ability to keep calcium, salt and even Cyanuric Acid (CYA) in range are the product of RO and cannot be obtained with chemical adjustment (like pH or Total Alkalinity (TA) can for example).  The control of these inline Reverse Osmosis system means less time for the staff to struggle with proper water chemistry and safe swimming.
Waterborne disease and the possibility of sick swimmers are a very real concern and can (and do) provide the ability for extremely bad press and consumer scare. RO has the ability to filter out a very high percentage of solid material from water, as well as non-solids such as bacteria, viruses, giardia, e-coli, cryptosporidium, etc. There is no other process that is able to filter down to the level of RO or provide this level of safety or water quality. While typical chlorine and swimming pool equipment do a good job of providing safe water, the truth is that even the best pool filter system will only filter down to a particulate size of about 4 microns. RO far exceeds this level and removes much more than any pool filtration system can achieve.
Damage to pool equipment and visual impact to pool waterline tile and decking areas. High levels of calcium and salt (every gallon of liquid chlorine contains 10 ppm of salt) are very detrimental to swimming pools and their equipment.  Excessively high salt levels (over 4,000 ppm) can become corrosive to not only the metals in the pool like handrails and light rings, but also to the heat exchanger of a pool heater.  In commercial usage, pool heaters are a very expensive component of the pool circulation system, and no manufacturer will warrant a pool heater that has been damaged or ruined by high salt levels or calcification. RO allows you to always keep these items in a range that you choose, keeping them low enough to avoid damage or build up on expensive pool equipment, waterline tile or decking.  A pool with stained and dirty calcium build up on the tile or deck is not inviting and does not look sanitary.
Fecal Incidents. This is possibly the most feared of occurrences possible in any swimming pool, and one that can cause many issues.  Fecal incidents close pools and can (and do) cause severe health issues.  The CDC (Center for Disease Control) has a specific protocol when dealing with these situations, which could include shutting the pool down completely, draining, sanitizing and refilling.  This protocol, while inconvenient and time consuming, can also create concerns as to the safety of the water even after clean up.
General sanitization. All pools require a certain degree of attention to keep sanitary and balanced.  When looking at the cost of the required pool equipment and chemicals (and/or chemical automation), the manpower to keep a swimming pool balanced, chemical demand and any automation (chemical feeders, remote monitoring, UV light, Ozone, etc.) a pool obviously becomes an expensive investment from day one. The ability to provide a safe and sanitary swim environment for guests, as well as maintaining the facility to avoid premature expense adds up quickly.  Products that automatically monitor and maintain swimming pools in a safe state cut operating expenses and labor costs, not to mention the downtime costs or inconvenience when a pool is out of service.
Pure Water Industries has the ability to build any size, any capacity, and any RO system for your residential or commercial property. If you are curious about these systems or how they can benefit you, your residents and your guests, contact us today!